Foundation Waterproofing
 

Interior Waterproofing
If you have water seeping into your walls in your basement, give us a call. We'll schedule an appointment to come to evaluate your water problem and make the best recommendation for repair.
Many companies install drain tile, we install a complete water management system. Interior drain tile is not designed to prevent water from migrating through the foundation walls, but rather to "manage" the water by directing it into a drain tile system and pumping it out with a sump pump. When installed properly, drain tile will not become plugged with silt.
Our specialized process allows us to offer unmatched, lifetime warranties to our commercial and residential customers.
 

Exterior Waterproofing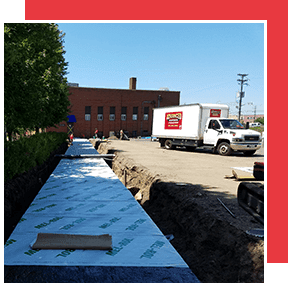 While an interior drain tile system will manage water once it gets through your foundation, an exterior drain tile system will prevent water from ever getting in at all, period.
By excavating around the exterior perimeter of your home or business, we can completely waterproof the foundation walls and install a drain tile system, guaranteed to keep your basement dry.
 

Spray Foam Insulation for Crawl Spaces
If the crawl space in your home isn't fully sealed, there's a good chance that contaminated air, earth gases, mold, and rodents can make their way into your living space. While some contractors insulate crawl spaces with fiberglass, we use a more efficient spray foam to seal up rim joists and crawl spaces.
Benefits To Sealing Your Crawl Space
Saves you money on heating and cooling costs (high R-value)
Stops air, moisture, dust, radon and more from entering your home
Helps prevent mold (and its musty smell)
Seals your home against bugs and rodents
Spray foam is permanent and doesn't sag like fiberglass
Insulating Between Floor Joists
Using spray foam between floor joists creates a thermal barrier from obstructions such as wiring and plumbing, ductwork, and narrow or wide joist spacing.
The thermal barrier created by spray foam is also more consistent than with traditional insulation.
Insulating Exposed Soils Of A Crawl Space Floor
Covering the exposed soils of your crawl space with foam insulation and high-density, reinforced plastic creates a solid moisture barrier. This insulation also helps reduce heating and cooling costs while preventing "stack-effect" air and moisture movement into your walls and upward into the living space, which can cause even more problems.
Why Foam Over Fiberglass
Fiberglass insulation doesn't provide a tight seal around pipes and wiring and won't seal the stud and wall cavities. Fiberglass is also often compressed by wire insulation hangers during installation. Open web floor trusses are virtually impossible to adequately insulate like this.
Spray foam insulation stops air and moisture from making its way around pipes and into cracks, crevices, and wall cavities.